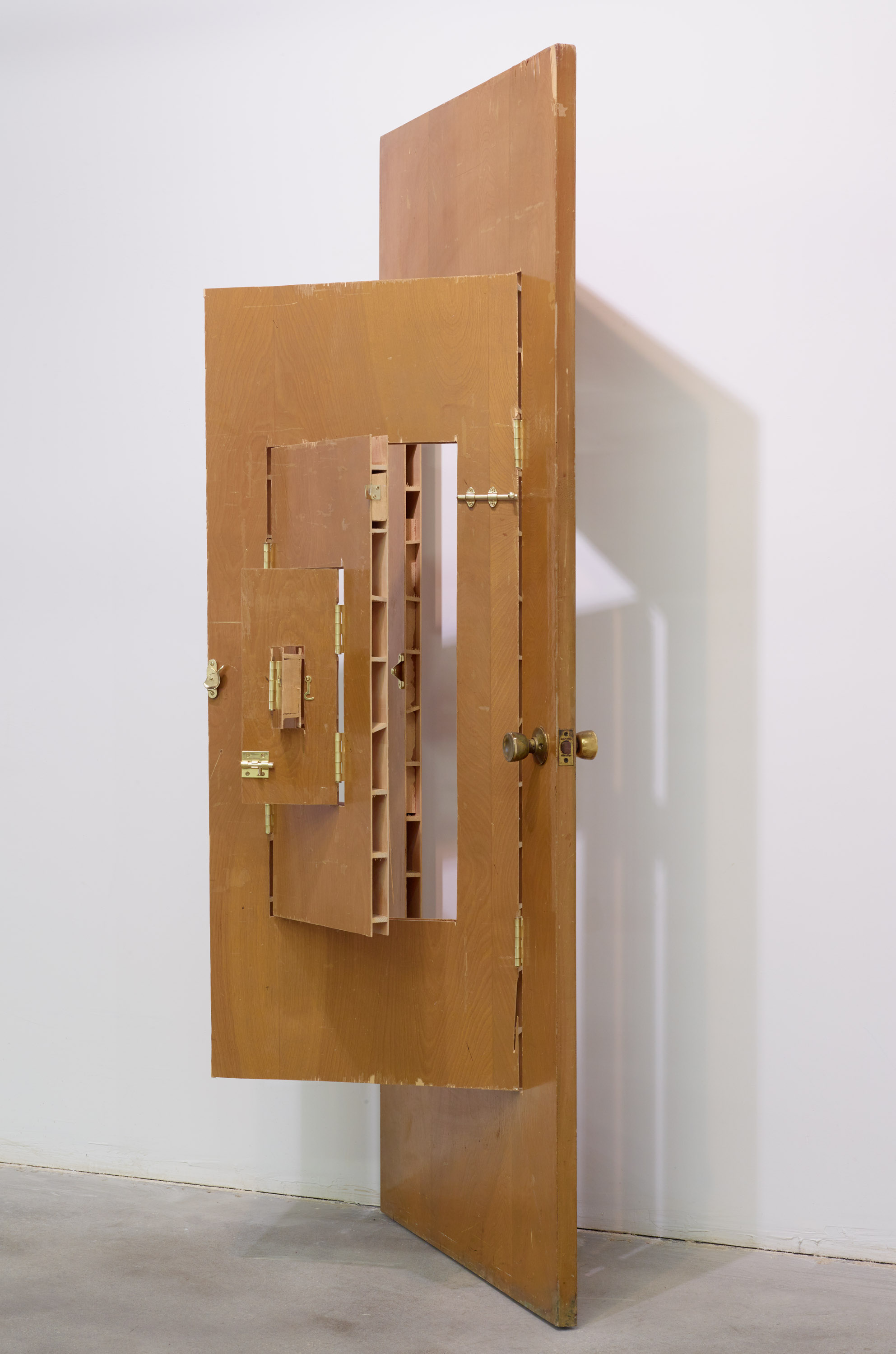 FLAT FOLDABILITY
April 21 - June 11, 2016
Opening reception: Thursday April 21, 6-8 pm

Amna Asghar
Joshua Callaghan
Guy de Cointet
Thomas Demello
Anthony Giannini
Rives Granade
Chanel Von Habsburg-Lothringen
Joseph Huppert
Robert Irwin
Anna Elise Johnson
Kathryn O'Halloran


 
FLAT FOLDABILITY
Amna Asghar, Joshua Callaghan, Guy de Cointet, Thomas Demello, Anthony Giannini, Rives Granade, Chanel Von Habsburg-Lothringen, Joseph Huppert, Robert Irwin, Anna Elise Johnson, Kathryn O'Halloran
April 21 - June 11, 2016
Harmony Murphy Gallery is pleased to present its first group exhibition: Flat Foldability, which explores the notion of determining crease pattern potentials from a single vertex that can result in a flat object or, the last point of departure from three dimensions to two. While this mathematical concept is most often applied to origami and other paper folding techniques, this exhibition extends its' conceptual boundaries to include folds, tucks, cuts, and sequences as well as multiple layers of subtext compressed into a single work.
Included in the exhibition is Guy de Cointet's His hands trembling so that he could scarcely hold a tool, 1978. This deconstructed pattern examines language on a micro level, dissolving the physical properties to an abstracted redirect. Working with various systems of encoding such as ciphers, codes, and wordplay Cointet created enigmatic graphic systems which read as text yet evade translation. These formally aestheticized marks are sequences in a non-linear narrative which speak more to the viewer's desire for a solution than any actual message hidden in their depths.
Chanel Von Habsburg-Lothringen's photographed mounds of her grandmother's clothing represent the flattening power of photography and its ability to merge three dimensional objects into a single picture plane. These nearly monochromatic arrangements are also an abstraction of the human form, stripping the assumed skin of clothing and compressing together its cultural signifiers along with the personal aesthetic choices it represents. Amna Asghar's paintings appropriate images from the popular culture of the Indian sub-continent, enacting various modes of quotation, translation, mis-translation, hybridity and overlap in her juxtapositions. These groupings are inspired by the remixing and sample layering of hip-hop in an attempt to visually describe the complicated realities of the politics of race and culture.
Anna Elise Johnson's acrylic sculptures weave together seemingly disparate layers of information into unified resin collages of manipulated images originally sourced from official photographs of meetings between multinational partners such as the World Bank and various heads of State. Honing in on the repetitive compositional structure of such photos and the codes of representation embedded within their political pageantry, Johnson abstracts the positive shapes of the meeting's participants with the trappings of bourgeois stability and the stale wealth that surrounds them. Rives Granade's Acid, 2016 uses the ripple-like folds of cursive text to create a sculpture that is more waveform than writing while Kathryn O'Halloran's new sculpture pen/umbra, 2016 flows from her exploration of instruments used to send or receive signals, integrating a weather balloon with a folded automotive sun shade. It's rippling folds mimic the abstract visualization of a graph. Joshua Callaghan's Used Blades, 2015 play with scale, imparting a comical significance to a quotidian studio tool while Door #1, 2014 layers increasingly smaller openings cut within a single door. The Escher-like optical effect created by this repetitive intervention and manipulation of scale creates a fairytale like sensation, the fantasy of depth from a single plane.
Also featured in the exhibition is the debut of a new type of work by Robert Irwin that uses unilluminated fluorescents to create a 'drawing' as well as sculpture by Joseph Huppert, etched paintings by Anthony Giannini, and a series of drawings and wood sculpture by Thomas Demello.
Amna Asghar (b. 1984 Detroit, MI) holds an MFA in painting from the Rhode Island School of Design and a BFA from Michigan State University. She has exhibited at Nancy Margolis Gallery, New York; Hawkeye Crates, Brooklyn; Bruce High Quality Foundation, New York; The Bowery Poetry Club, New York. From 2014 to 2015 Asghar was a peer mentor to the Salama Bint Hamdan Al Nahyan Emerging Artists Fellowship through the Rhode Island School of Design in Abu Dhabi. Her work will also be included in an upcoming exhibition at the Mint Museum, Charlotte, NC.
Joshua Callaghan (b. 1969 Doylestown, PA) holds an MFA from University of California, Los Angeles and a BA from University of North Carolina, Asheville. He has shown work in solo exhibitions at Harmony Murphy Gallery, Los Angeles; The Armory Center for the Arts, Pasadena, CA; and Haas & Fischer Gallery, Zurich. His work has been featured in group exhibitions including After Effect, Ballroom Marfa, Marfa, TX; Bienal Del Sur en Panama, Panama City, Panama; and Frieze Projects, Frieze New York.
Guy de Cointet (1934-1983) was a french born-artist based in Los Angeles from the late 1960s until the 1970s. He is now recognized as one of the major figures in the Conceptual art movement that emerged in Los Angeles in the 1970s, having strongly influenced a number of prominent Southern Californian artists including Paul McCarthy and Mike Kelley, for whom both drawing and performance figure significantly in their artistic practices. Since the time of his death, de Cointet's theatrical works continue to be restaged at museums, galleries, and theaters in the U.S. and abroad, and a number of historical exhibitions have been mounted around his work. A selection includes: Brave the outermost wilderness of language, Museum Leuven, Belgium 2015-16; Tempo Rubato, Colección Jumex, Mexico City, 2012; Tell Me…, Centre Pompidou, Paris 2013; Guy de Cointet, Who's That Guy?, Musée d'Art Moderne et Contemporain, Geneva, 2004. His work was also featured in Under the Big Black Sun: California Art 1974-1981, MOCA, Los Angeles, 2011-12, and Los Angeles, 1955-1985, Centre Pompidou, Paris, 2006.
Thomas Demello (b. 1981 San Diego CA) has been exhibited at Harmony Murphy Gallery, Los Angeles, CA; Bread and Salt, San Diego, CA; Ice Gallery, San Diego, CA, amongst others.
Anthony Giannini (b. 1984 Boulder, CO) holds an MFA in Painting from Rhode Island School of Design. He has been the recipient of the MacColl Johnson Fellowship through the Rhode Island Foundation. He has had solo exhibitions at Harmony Murphy Gallery, LA; Walter Otero Contemporary Art, PR; and Oliver Francis Gallery, Dallas, TX and his work has been included in group exhibitions at the Pace Gallery, NY; Bruce High Quality Foundation, NY; Fort Worth Drawing Center, TX; MAN Museum, Berlin, DE; and Art Dubai, Christian Hosp Gallery, Dubai, UAE amongst others.
Rives Granade (b. 1979 Mobile, AL) holds an MFA from the San Francisco Art Institute and a BA Washington and Lee University. He has shown work in solo and two-person gallery exhibitions at Ochi Projects, Los Angeles; Marine Contemporary Salon, Los Angeles; and Steven Wolf Fine Arts, San Francisco. His work has been featured in group exhibitions including Here There Be Tigers, Gallery Lara, Toyko; My Self is Another, The Underground Museum, Los Angeles; and Brann, Kino Kino Center for Art and Film, Sandnes, Norway.
Chanel Von Habsburg-Lothringen (b. 1989 Detroit, MI) holds an MFA in Photography from Cranbrook Academy of Art and a BA from the University of Michigan, Ann Arbor. She has shown work in solo gallery exhibitions at Boyfriends, Chicago; and PRAMU, Detroit. Her work has been featured in group exhibitions including Female Body Inspector, Arturo Bandini, Los Angeles; Meanwhile in Lonesome Valley, Loudhailer, Los Angeles; and Tomorrow ain't promised to no one, Forum Gallery, Bloomfield Hills, MI.
Joseph Huppert (b. 1978 Mesa, Arizona) was the recent recipient of the San Diego Art Prize. His work has been exhibited at Harmony Murphy Gallery, Los Angeles, CA; Quint Gallery, La Jolla, CA; Ice Gallery, CA; Athenaeum Museum & Library, CA; Allen Priebe Gallery, University of Wisconsin; amongst others
Robert Irwin (b. 1928, Long Beach, California) has explored perception as the fundamental issue of art for over six decades. Irwin, who began his career as a painter in the 1950s and became the pioneer of the L.A.-based "Light and Space" movement in the 1960s, has, through a continual breaking down of the frame, come to regard the role of art as "conditional," or something that works in and responds to the specific surrounding world of experience. Irwin has conceived fifty-five site-conditional projects since 1975, ranging from the architectural and grounds design of Dia: Beacon Center for the Arts (2003) to the lush Central Gardens for the Getty Center in Los Angeles (2005). His work has been featured in more than sixty solo exhibitions and is held in more than thirty public collections worldwide, including the Centre Georges Pompidou, Paris; The J. Paul Getty Museum, Los Angeles; Hirshhorn Museum and Sculpture Garden, Smithsonian Institution, Washington, D.C.; Museo Nacional Centro de Arte Reina Sofia, Madrid; The Museum of Modern Art, New York; Solomon R. Guggenheim Museum, New York; and the Whitney Museum of American Art, New York.
Anna Elise Johnson (b. 1983 Stanrberg, Germany) holds an MFA from the University of Chicago and a BFA from Washington University, St. Louis. She has had solo exhibitions of her work at GAR Gallery, Gavelston, TX; the Blaffer Art Museum, Houston, TX; and Lage Egal, Berlin. Her work has been featured in group exhibitions including Linear Imaginations, Sicardi Gallery, Houston, TX; After Walker Evans, Fort Worth Contemporary Arts, Fort Worth, TX; and Mass Media, Mixed Media, Cuchifritos Gallery & Project Space, New York. Johnson recently completed the Core Program Fellowship at the Museum of Fine Arts, Houston.
Kathryn O'Halloran (b. 1984 Oak Park, IL) holds an MFA in Ceramics at the Cranbrook Academy of Art and a BA from Hampshire College. Her work was exhibited at Harmony Murphy Gallery in the two person show Saline Communion in 2015.